Vahterus Oy acquired Raucell's business on July 31, 2020
Production of Raucell's product will continue in Riihimäki and sales will be transferred to Vahterus sales organization. The entire business of plate heat exchangers manufactured under the Raucell brand will be transferred to Vahterus business from August.
For existing orders and requests for quotations, please contact the addresses below:
ville.kesala(at)vahterus.com
or sales(at)vahterus.com
KOMPLETT VERSCHWEISSTER RAUCELL -PLATTENWÄRMETAUSCHER
Konstruktion – Primäre und sekundäre Kreisläufe und alle Oberflächen aus säurebeständigem Edelstahl, AISI316L.
Anschlüsse an der Kante des Wärmetauschers. Keine Löcher in den Platten. Die gesamte Oberfläche überträgt Wärme.
Die Platten werden von der Kante her zu einem Außenmantel zusammengeschweißt. Keine Dichtungen.
Keine Verbindungspunkte zwischen den Platten, an denen sich Schmutz ansammeln kann. Keine Hartlötplatten aus auflösbarem, giftigem Zwischenkupfer oder anderen Schwermetallen.
Anschlussgrößen zur Auswahl. Spül- und Waschanschlüsse betriebsbereit. Umweltfreundliches Waschen von organischen Verschmutzungen mit Laugenwasser, das abgeleitet werden kann.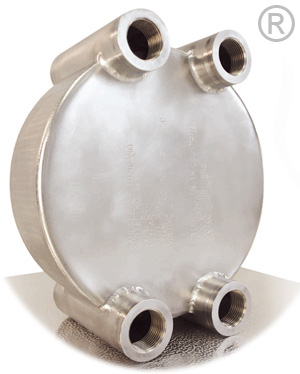 ANWENDUNGSGEBIET
Papier und Massa ind.
Lebensmittel ind.
Energie ind.
Chemie ind.
Metall ind.
Kälte ind.
Schiff ind.
Bau ind.
Besondere mit Kunden
Kontaktinformationen
Raucell Oy
Tehdaskylänkatu 11 B
FIN-11710 Riihimäki, Finnland
GSM +358 44 742 7035
Tel +358 19 739 554
E-Mail: sales[at]vahterus.com
www.raucell.com
Patents
A structure for the end of pressure vessels, most applicably plate heat exchangers, for reducing the effects of movement changes and vibrations caused by variations in internal pressure and temperature. The end is made up of a heat transfer plate and an end part in such a way that the end part is connected by welding to the shell of the outer surface of the heat exchanger stack, forming an enclosed chamber on the end of the heat exchanger, into which chamber higher pressure than the external pressure level is brought and/or generated. The higher pressure receives and dampens, via a heat transfer plate, vibration and pressure shocks harmful to the heat exchanger structure in the medium circuits of the heat exchanger.
FI126717 B (2017)
Technology
EPO 0903554 B1 (2004)
FI 79409 (1989 Original)
Technology Licensing