Vahterus Oy acquired Raucell's business on July 31, 2020
Production of Raucell's product will continue in Riihimäki and sales will be transferred to Vahterus sales organization. The entire business of plate heat exchangers manufactured under the Raucell brand will be transferred to Vahterus business from August.
For existing orders and requests for quotations, please contact the addresses below:
ville.kesala(at)vahterus.com
myynti(at)raucell.fi or sales(at)vahterus.com
RAUCELL ALL WELDED AND ALL STAINLESS PLATE HEAT EXCHANGER
Construction – Primary and secondary circuits and all surfaces of acid sustainable stainless steel, AISI316L.
Joints on the HE's edge. No flowholes in the plates. Whole surface transfers heat.
The plates are welded together from the edge to form an outer shell. No gaskets.
No joining points between the plates, which gather dirt. No dissolving, poisonous, intermediate copper or other aquatic brazing plates.
Joint sizes to choose. Flushing and washing joints ready. Washing organic dirt environmentally friendly by lye-water, which can be drained.
Production in accordance with EU DIR.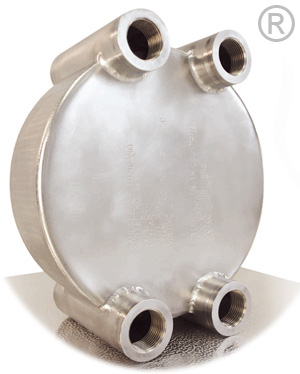 APPLICATIONS
Paper and Pulp ind.
Food and Dairy ind.
Energy ind.
Chemical ind.
Metal ind.
Cold ind.
Ship building ind.
Building ind.
Customers special applications
Contact information
Raucell Oy
Tehdaskylänkatu 11 B
FI-11710 Riihimäki, Finland
GSM. +358 44 742 7035
Tel. +358 19 739 554
E-mail: sales[at]raucell.com
www.raucell.com
Patents
A structure for the end of pressure vessels, most applicably plate heat exchangers, for reducing the effects of movement changes and vibrations caused by variations in internal pressure and temperature. The end is made up of a heat transfer plate and an end part in such a way that the end part is connected by welding to the shell of the outer surface of the heat exchanger stack, forming an enclosed chamber on the end of the heat exchanger, into which chamber higher pressure than the external pressure level is brought and/or generated. The higher pressure receives and dampens, via a heat transfer plate, vibration and pressure shocks harmful to the heat exchanger structure in the medium circuits of the heat exchanger.
FI126717 B (2017)
Technology
EPO 0903554 B1 (2004)
FI 79409 (1989 Original)
Technology Licensing